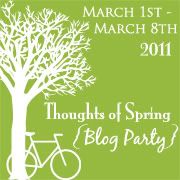 Hey, ya'll! If you've never visited my blog before then welcome! If you're an old friend, welcome back! I'm the soon-to-be 25 year old wife (of 3.5 years) and mama of two (William-almost 3 and Madelyn- 1). My family and I live in a quiet, older neighborhood in Portsmouth, Virginia. We love to go to the beach (roughly 20 minutes away), on day trips, and to our local amusement park (Busch Gardens). My husband is a portfolio manager at a local wealth management firm and I stay at home with our kiddos. In my spare time I work a few hours a week at Gymboree (which almost pays for the clothes addiction I have for my kids) and I am starting to dig gardening (get it!).
And In case you wondered (and you probably didn't). Here are some more tidbits about me…
How would people describe your personality? (If they could only use ONE word.) Are they right?
Bubbly. All throughout my childhood and now into adulthood, I've been described as "bubbly" because I have a very perky, strong, loud, and humorous personality. I'd say they're right (unless you catch me before 10 am!).
What celebrity/celebrities would create a "Star-Struck" feeling if you saw them in real life?
Hmmm...I have a few. If she were still alive, I would definitely have to say Princess Diana for numerous reasons, but probably mostly for her grace and strength. Currently I would melt if I ran across Anderson Cooper (I know, it's an odd crush and no matter what you tell me I refuse to believe he's gay), Ellen DeGegeneres (come on, she's HILARIOUS!), and Jack Johnson (come on, tell me he would not be cool to hang out with).
Are you a hopeless romantic?
Not at all! Maybe it's because I'm too busy being mama to two crazy kids, but my idea of romance when my husband refills the Crystal Light pitcher or gives the kids a bath!
What is your comfort food/drink?
Food- Mexican (not homemade but at one of my favorite restaurants) and chocolate cake with homemade peanut butter butter-cream frosting. Drink- Moscato wine, coffee, and sweet tea!
Be brave – tell us something very random and weird about yourself.
I love Q-tips. I clean my ears out every day- sometimes 3 or 4 times a day. I know, OCD.
What is your greatest fear or strange phobia?
Ok, so instead of confessing some of my serious, real, fears I think I'll share a somewhat silly one. I'm terribly afraid of birds. I hate them. All kids of birds freak me out from little tiny ones to big, nasty seagulls.
Movies: Action, Drama, Romantic Comedy, Documentary, Comedy? What are your favorite genres?
I say that RomComs are my favorite, but I am a closet action junkie. 99% of the time my husband and I go to see a chick-flick, I leave disappointed. However, when we go see an action movie (like one of the new Bonds or Batmans), I leave exhilarated.
Books: Fiction, Non-Fiction, Romance, Biographies, True Stories, Self-Help, Devotional/Study? What are your favorite types of reading material?
Fiction! Totally fiction! I am really into Jodi Picoult right now and before I had kids and could stand the murder mystery stuff, I read a lot of James Patterson. I wish I could say that I read my Bible daily, but that would be a lie that I just can't tell. I do, however, love little books that have positive and uplifting scriptures and quotes. I need mantras to keep me sane!
Music: Funk, Rock, Country, Jazz, Classical, Film Score, Blues, Classic Rock, Crooner, Alternative, Heavy Metal, Techno? What are your favorite types?
I love 80's music (Abba, Duran Duran, Queen) and Pop/rock (Lady Gaga, Sarah Berelis, Train, Jason Mraz, Jack Johnson)
What movie or book character can you most relate to?
Hmmm...probably Debra on "Everybody Loves Raymond".
Name one weakness of yours (confession is good for the soul).
I am a huge worrywart. Now, I am not nearly as bad as I used to be, but I still let my mind run rampant with all the "what-ifs" in life.
If you could live anywhere at all (and take all your loved ones with you), where would you go?
I have two idea locals. One on be in a big, beautiful house on the beach somewhere or in a gorgeous farm house in the middle of nowhere (but not too far away from somewhere).
What is one of your favorite things to catch a whiff of?
Grills. I love during the summertime when you catch a whiff of your neighbor's grill. It totally causes me to covet!
When you leave a social gathering, do you wish: You would have talked more or You would have talked less?
Less! I always feel like I am large and in charge and I really don't want to over-talk people. I do have friends though that say they like that I propel conversation because they have a hard time coming up with things to talk about. So I guess being an "excessive talker" as my teachers so eloquently put it, isn't always bad!
If money wasn't a factor, what stores would you shop in?
Pottery barn, Williams-Sinoma, J.Crew, any and all health-food stores. Instead I love TJMaxx and Ross because they have the Pottery Barn/Williams-Sinoma feel without the price and Trader Joes for the health food cheap!
What are your favorite animals?
You may stop reading my blog when you find out that I really don't like animals. I know, I'm cold! I'm more of a people person than an animal person. However, if I had to pick an animal it would be a giraffe.
If you want to know more, be sure to check back! :)
Erin